Running on sand is unquestionably more challenging than running on pavement. Running at the beach can be used for a warm-up or as a workout. It improves your running technique, builds your strength, stabilizing muscles and coordination, increases your calorie burn, and above all make you enjoy your time more.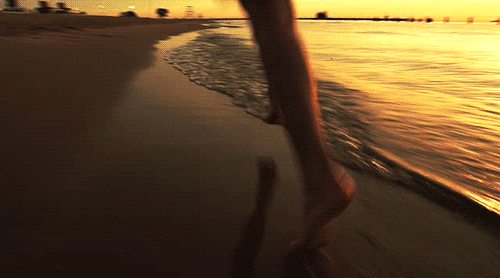 1- Put On Sunscreen
For sun safety, it is recommended to put on your sunscreen, protective clothing, and sunglasses. Running by the beach, you are more susceptible to be exposed to sun and especially to the dangerous UV rays of the sun that are usually reflected off the water, increasing possible effects. Stay away from peak sun hours; run early in the morning or later in the afternoon preferably.
2- Barefoot or shoes
The damp sand is strong enough to facilitate running with shoes as well as it is soft enough to make barefoot running possible. Yet, if beaches feature numerous shells or rocks, you'd rather wear your shoes to avoid injuries.
3- Warm Up Your Legs
Do some forward lunges, hip circles, high knees, butt kickers, ankle rotations, and calf rises… You need warm-up your posterior chain and ankles because running on the beach you will work harder your legs than the pavement.
4- Slow Your Speed
The idea to run on the beach is itself very exciting, yet excitement is not going to improve your speed at all. The change of the ground and the lesser impact of the sand will surely slow down your pace. Follow a running rhythm lower than the one you would keep on a harder surface and enjoy the sights.
5- Run Three Times a Week
Beach running is a hard exercise. If you are not new to running in the beach, running one day a week is great. Even, for regular runners it is recommended to a have a break of one day in between for upturn.